Auctions Plus is a team of Auctioneers, Appraisers, and Liquidators specializing in all types of Auctions and Liquidation sales including Estates, Business Liquidations, Farm and Ranch, Bankruptcy and Vehicles. Our team of professionals have a wealth of knowledge and experience to provide the customers with everything they need to have a successful sale. We use cutting edge technology along with time honored methods to bring buyers and sellers together using the auction method of marketing.
Our Team
 Larry Richeson TXL 17253 – Lead Auctioneer
Larry has over 40 years in the auction business starting out as a benefit auctioneer for several years and eventually starting a full time auction business of his own. He has owned and operated several successful businesses over the years including dealing in automobiles, tractors and heavy equipment. Larry is a graduate of the Texas Auction Academy and an active member of the Texas Auctioneers Association and National Auctioneers Association. His business know how and auction background came together with a passion to build a top notch auction company consisting of a team of some the industries best professionals. His dream has become a reality in Auctions Plus and we are proud to have Larry taking the Lead as we continue to grow under his guidance and vision.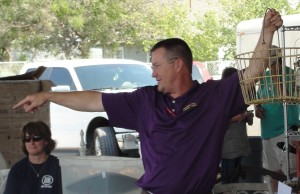 Buster Sowell – General Manager
Buster brings his years of business and management skills to the table as the General Manager of Auctions Plus. Buster coordinates much of the logistics, contracting, and scheduling of our sales. Buster's background is mainly in the automobile industry managing, owning and running dealerships around the state of Texas as well as running an asset control business where he managed the asset control and seizure process for banks, insurance companies, and loan agencies. Buster has become a skilled ringman/bidder assistant since helping start Auctions Plus and enjoys working alongside his family during sales.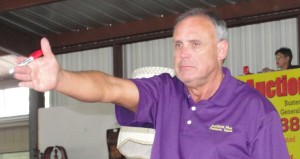 Bobby Mabery TXL 16247 – Auctioneer/Appraisals
Bobby has been involved in the auction business for over 20 years working part time for local auction companies as a sale set up specialist and ringman as well as a backup auctioneer. Bobby is a retired Principal/Teacher with the Granbury School District. He has always had a passion for auctions and with the forming of auctions plus he now has a place to put his passion to work. Bobby is a graduate of the Texas Auction Academy and an active member of the Texas Auctioneers Association and National Auctioneers Association. He is also a Certified Appraiser by the Certified Appraisers Guild of America (CAGA) He specializes in American Antiques and Estates.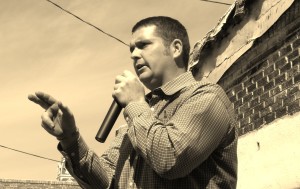 Aaron Parker TXL 17098 – Auctioneer/Internet Specialist 
Aaron joins our team with excitement and energy bringing several years of auction and internet marketing experience with him. He has ran his own full time auction business and currently contracts himself out selling foreclosed land and homes as well as vehicles, estates and consignment sales. Aaron is a graduate of the Texas Auctioneer Academy and active member of the Texas Auctioneers Association. He is a 3 time State Championship Auctioneer contestant with a hopeful win in the next few years. He specializes in internet marketing and bidding.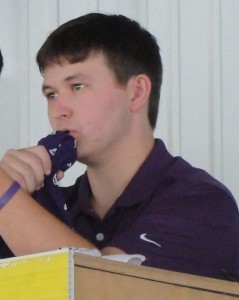 Brice Sowell – Auctioneer/Bidder Assistant 
Brice is a graduate of the Texas Auction Academy and assists Auctions Plus as a Ringman/Bidder Assistant and Auctioneer. Brice is a very fun and charismatic Auctioneer and Ringman and keeps the auction lively and upbeat. Brice is currently attending Tarleton State University.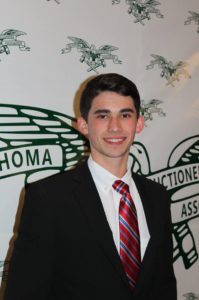 Cade Richeson- Auctioneer/2019 OSAA Champion Auctioneer – Rookie
Cade is a 2018 Graduate of America's Auction Academy. He is a very talented Auctioneer and Ringman. He brings salesmanship and professionalism to the ring every sale. Cade is the 2019 Oklahoma State Champion Auctioneer in the Rookie division.
Auctions Plus…giving the customer all they expect in a great Auction..Plus more!